Kristin Berardi Meets The Jazzgroove Mothership Orchestra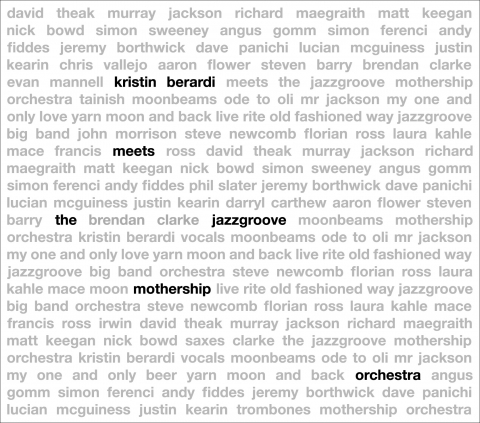 Winner of 2012 Australian Jazz Bell Award Best Vocal Jazz Album
Arriving on the 6:01, is the new release from award winning vocalist Kristin Berardi alongside 17-piece powerhouse ensemble, The Jazzgroove Mothership Orchestra.

This debut release, Kristin Berardi Meets The Jazzgroove Mothership Orchestra is an exciting new collaboration representing many of the finest, dynamic, young improvisers in Australia, with Berardi as guest vocalist.

Three time nominees of Australian Jazz Ensemble of the Year has helped establish "The Mothership" as Australia's leading jazz orchestra. Its members have dominated Australia's top prizes over the last decade, including the Montreux Festival International Vocal Award (Swiss), the National Jazz Awards, the Freedman Fellowship, Australian Jazz Artist of the Year, Vocal Album of the Year (Bell Awards), the James Morrison Scholarship together with numerous international appearances and releases.

Berardi's rich, melodic voice works to sublime effect with The Mothership's big band groove, who prove once again to be jazz orchestral at its finest. Let them take you with them on a celestial musical journey. We hope you enjoy.

Available to buy from all good record stores.

Featuring: Kristin Berardi (vocals, composer), Carl Morgan (guitar), Hugh Barrett (piano), Brendan Clarke (contrabass), Jamie Cameron (drums, cymbals), David Theak (alto, sop sax), Murray Jackson (alto sax), Mike Rivett (tenor sax), Richard Maegraith (tenor sax), James Loughnan (bari sax), Andy Fiddes (trumpet), Darryl Carthew (lead trumpet), Angus Gomm (lead trumpet), Simon Ferenci (trumpet), Jeremy Borthwick (trombone), Lucian McGuiness (trombone), Danny Carmichael (trombone), Justin Kearin (bass trombone)
Track Listing Show
Moonbeams


composed by Kristin Berardi

Mr Jackson


composed by Kristin Berardi

Ode To Oli


composed by Kristin Berardi

Moon And Back


composed by Kelly Ottoway

Old Fashioned Way


composed by Kristin Berardi

Live Rite


composed by Kristin Berardi

My One & Only Love


composed by R Mellin & G Wood

Yarn


composed by Kristin Berardi
Buy Music
Cat# HEAD141
iTunes
Hi Res Download
1800 802 061 Phone Orders Australia
+61 3 9537 7155 Overseas Orders