Ian Chaplin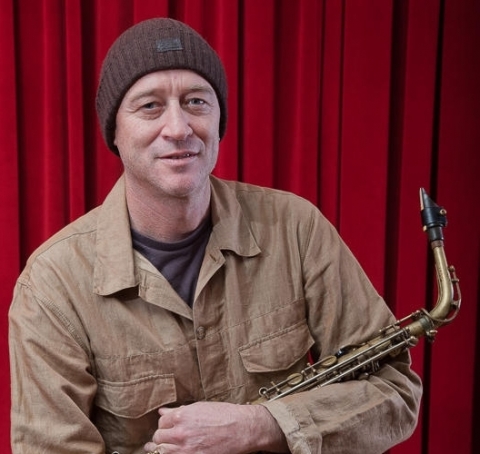 Ian Chaplin began his career in 1971 studying drums with John Reynolds and Allan Waller. In 1979 he switched to saxophone after joining the Army as an Apprentice Musician.

As a graduate of the Army School of Music in 1980, he was posted to Brisbane where he made himself known on the local Jazz scene. Later he founded Musiikki Oy with drummer Ted Vining and played with musicians such as Bob Sedergreen, Tony Gould, Keith Hounslow, Bernie McGann, Mike Nock, Joe Lane and Stewart Spears.

Ian moved to Melbourne in 1986 and became a member of several groups including Jex Saarelaht's "Jextet", Kate Ceberano's "Way Back Five", Vince Jones' "Septet" and Paul Grabowsky's "Quintet".

After having received a Diploma of Arts in Music from the Victorian College of the Arts in 1989, Ian went on to tour with Vincent Herring, The Ted Vining Trio and, most notably, Nat Adderley. By this time he had formed his own Trio and was performing regularly at various venues and festivals.

In 1990 Ian joined the band for Channel 7's Tonight Live with Steve Vizard. Later that year he travelled to New York, where he studied saxophone with George Coleman and recorded with Ed Schuller and Dewey Redman. On returning to Melbourne he again toured with Nat Adderley, performed with Eddie Henderson and George Coleman Jnr.

In 1993 Ian became a founding member of the Australian Art Orchestra.

1994 saw Ian as a regular with Mark Fitzgibbon's "Go", as well as performances with English drummer Clark Tracy. Later that year he toured Europe with Paul Grabowsky's Sextet.

Ian formed "Decoy" in 1995 with bassist Phillip Rex. They and drummer, Andy Fitzgibbon, and guitarist, James Sherlock, performed regularly in and around Melbourne.

After many years recording for other artists, Ian received an Australian Arts Council grant in 1995 to record a master tape of his own material. He went into Allan Eaton Studios with Philip Rex, Scott Lambie, Mark Fitzgibbon and Sam Keevers and laid down what was to become Tjapangati.

Again performing kept Ian busy throughout 1996. The year saw him perform with acts as diverse a US pianist, Andrew Hill, and Australia's The Black Sorrows. He secured a release for Tjapangati on the Jazzhead label and the CD went to stores mid November 1996. The success of the album led to a new Jazzhead release in 1997, called The Future In Today, featuring trumpter Scott Lambie, drummer Scott Tinkler and bassist Phillip Rex.
Also appears on...