Anton Delecca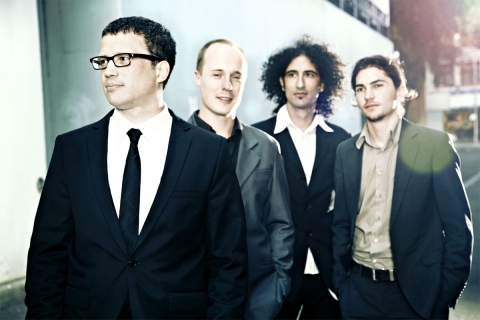 Anton Delecca formed the original quartet in mid 1998 after returning from a year in Sydney. The band played several seasons at Melbourne jazz venue Bennetts Lane, recorded for the Australian national broadcaster's radio programme 'Jazztrack', and in 2001 performed at the Melbourne International Jazz Festival. From 2003 to 2007 the band took a hiatus while Anton focused attention on the world music inspired group The Situationists, as well as extensive touring and recording commitments with The Bamboos.
Anton re-formed the band early in 2008 with a new line-up and repertoire. Since that time they have performed regularly at Melbourne jazz venues The Paris Cat, Bennetts Lane, Uptown Jazz Cafe and Dizzy's. Their new album 'Lost City', soon to be released on Jazzhead, will be officially launched on Sunday January 31st in the Jazz Lab at Bennetts Lane, Melbourne.
Anton Delecca - tenor and soprano saxophones
Anton completed a bachelors degree in music performance at the Victorian College of the Arts in 1991 and since that time has performed and recorded nationally and internationally. He has recorded for the Australian Broadcasting Commission and the BBC (with The Bamboos) and has performed at many of Australia's premiere arts festivals including The Melbourne International Jazz Festival, The Sydney Festival, The St Kilda Festival, The Perth International Arts Festival, The Adelaide Festival, Meredith and Golden Plains festivals, Falls Festival, West Coast Blues and Roots Festival and The Wangaratta Festival of Jazz.
In 2000 he studied in New York with saxophonists Dave Liebman (Miles Davis), George Garzone and Chris Potter. In 2001 he twice traveled to Hong Kong to perform as featured soloist with local ensembles in public concerts and jazz clubs.
He has performed/recorded/toured with Odean Pope (Max Roach Quartet), Arthur Blythe (World Saxophone Quartet), Wayne Bergeron, NYC Latin Soul singer Joe Bataan, New Orleans piano legend Eddie Bo, UK vocalist Alice Russell, UK producer/guitarist Will Holland's Quantic Soul Orchestra, Melbourne groups: Frock, The B Sharp Big Band, The Cat Empire, Bennetts Lane Big Band, Los Cabrones and various others.
Recent activities include: Performance at London venue, Jazzlive @ The Crypt, with a London version of the quartet. Performing with LA trumpet maestro Wayne Bergeron as part of the Melbourne International Festival of Brass. Backing New Orleans pianist, singer and producer Eddie Bo with The Bamboos. Recording the music for Nintendo 'Wii' video game called 'The Blob'. Performed in New Zealand with Australian rock band 'Icehouse'. In June 2007 recorded and performed in Shanghai with trumpeter Toby Mak, drummer Simon Barker, pianist Matt McMahon, bassist Pete Sher and guitarist Laurence Ku. In both 2006 and 2007 he completed UK/European tours with The Bamboos.
Selected Discography
2009, 'Pazit'. Australian Jewish Music Ensemble (HEAD116)
2008, 'Side-Stepper'. The Bamboos, Tru Thoughts (TRULP178)
2008, 'The Bamboos Present: Kylie Auldist - Just Say'. Kylie Auldist/The Bamboos, Tru Thoughts (TRUCD159)
2008, 'Listen! Hear! The Bamboos Live! The Bamboos, Tru Thoughts (TRUCD144)
2007, 'Decadence - live at the lane', Frock, self-issued.
2007, 'Black Feeling', Various Artists, Freestyle (FSRCD027)
2007, 'Rawville', The Bamboos, Tru Thoughts (TRU125)
2006, 'Step It Up', The Bamboos, Tru Thoughts (TRUCD092)
2006, 'The Situationists', Anton Delecca, Newmarket Music (NEW3188/2)
2002, 'Talk It Up', Paul Williamson Quintet, Newmarket Music (NEW 3101/2)
2001, 'Non Consensual Head Compression', Paul Williamson Quintet, Newmarket Music (NEW 3086/2)
2001, 'Flow', Anton Delecca Quartet, Newmarket Music (NEW 3083/2)
1992, 'Ya-It-Ma-Thang', Niko Schäuble's Tibetan Dixie with Arthur Blythe, Timeless Records (SJP 412)
Marc Hannaford - piano
Marc Hannaford began performing professionally on the piano in 2001. At 24 he was awarded 2nd Prize in the 2006 National Jazz Awards and in 2007 was included as one of the four national finalists under 35 in the Music Council of Australia's Freedman Fellowship as well as one of three nominees for the Australian Jazz 'Bell' Awards Young Jazz Musician of the Year. Marc's composition 'Out and Out' was nominated as a semi-finalist in the jazz category of the 2006 International Song Contest, and he was one of four jazz composers to be nominated for the 2006 Melbourne Jazz Fringe Festival's annual commission. In 2004 he was commissioned by the Half Bent Winter Music Festival to present a suite of new music for septet. He also composes regularly for Melbourne's premier large ensemble devoted to original music the Bennetts Lane Big Band.
In 2006 he received a 'Skills Arts and Development' grant from the Australia Council of the Arts to travel to Brisbane for intensive study with violinist John Rodgers, drummer Ken Edie and saxophonist Elliot Dalgleish and in 2005 was awarded an Australia Council of the Arts bUZZ grant for a recording of original music with his septet. The resulting record, 'Parallels, Layers' has received much acclaim from within the jazz community.
Marc completed his Bachelor of Music (Jazz) and his Graduate Diploma in Performance (Jazz) at the Australian National University with the assistance of the Michael Foster Scholarship. Marc's teachers have included renowned Sydney pianists Paul McNamara and Matt McMahon, Canberra pianists John Luxton and Colin Forbes and Melbourne pianist/composer Andrea Keller. He has also received lessons from New York pianists Jason Moran and Andy Milne and New York saxophonist Greg Osby.
He has performed both as a sideman with such well-known musicians as saxophonists Dale Barlow, Jamie Oehlers and Julien Wilson, trumpeters Miroslav Bukovsky, Scott Tinkler and Eugene Ball, and drummers Ken Edie, Ronny Ferella and Alan Browne. He has also appeared in such ensembles as the Scott Tinkler Quartet, the Bennett's Lane Big Band, Jamie Oehlers/Marc Hannaford Monk Project, Eugene Ball's Messiean Ensemble, The David Rex Quartet and the multi-media ensemble The Maximalists.
Jonathan Zion - acoustic bass
Graduating from VCA in 1992 on electric and double bass Jonathan has performed both nationally and internationally including numerous tours to New Zealand the United States, Canada, Russia, Japan and Europe.
Jonathan has been a regular member and contributing composer of Melbourne based, original jazz / improvising ensembles: "kadoonka", "The Situationists", "Facelifter", Anton Delecca Quartet and the Luke Howard Trio, performing at the Melbourne International Jazz Festival, Wangaratta Jazz Festival and the Half Bent Festival.
In 2005 Jonathan began working with Pete Murray and The Stonemasons and tours with them extensively as well as being a member of the Ian Moss Trio. In 2007 he toured nationally with Deborah Conway's "Broad" and worked on the Adelaide festival preview of Eddie Perfect's musical "Shane Warne". Jonathan plays a 1920's Czech Acoustic Bass and Fender Electric Basses.
Danny Farrugia - drums
Daniel began studying drums and percussion at the age of eleven at Rowville Secondary College under the guidance of Brian Czempinksi. During his time at Rowville Secondary College, Daniel gained a great deal of ensemble playing experience and at the age of only seventeen, Daniel was the winner of the "Australia's Best and Upcoming Drummer Competition" in the open age category. After completing high school, Daniel entered into a bachelor degree of music performance at the Victorian College of The Arts and during his first year, he was awarded the Gwen Nisbett Scholarship Award. Before graduating from the VCA in 2004, Daniel was already playing and touring with a variety of ensembles around Australia and the Pacific. Now at the age of 24, Daniel's versatility and musical ability has made him one of Australia's in demand drummers. Currently playing and touring with Melbourne funk band The Bamboos, Daniel has also performed with a number of artists and bands including Rene Geyer, Missy Higgins, Eddie Bo (US), Joe Bataan (US), Alice Russell (UK), The Quantic Soul Orchestra (UK), Mia Dyson, Doug Parkinson, Frock, and the Melbourne Symphony Orchestra.
Will Poskitt - piano
Will Poskitt played in the quartet for most of 2008 until his tragic death on November 8th 2008. Will is sadly missed by all who knew him. Visit 'Will Poskitt's Legacy' page on Facebook.
Recent Releases
Also appears on...