The Pulse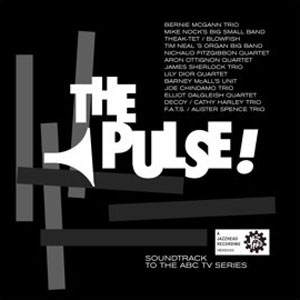 The Pulse double CD set features the highlights of a moment in time of Australian jazz as captured in the ABC TV Series, The Pulse (ABCTV - Thu 11pm). Legends playing side by side, brilliant newcomers, improvising musicians communicating in full flight, tremendous talent and a sound particular to the Australian scene. The Pulse is a snapshot of this incredibly creative and vibrant world.
Hilton Cordell Productions took on the challenge of recording the series. Not content to simply set up in studio, the team hit the hottest jazz clubs in Melbourne and Sydney to record over 100 musicians live during the summer of 2000/01.
Directed by Doug Aitken, photographed by Kim Battersham and recorded by Michael Henshaw, the resulting series and CD are both spectacular, not-to-be-missed documents of the time.
Well known bassist, Jonathan Zwartz, curated the ten specially staged performances:
"The Pulse flows over and around a broad spectrum of styles and ages, from 17 year old Aron Ottignon to the 63 year old legend Bernie McGann. The music shows the incredibly high standard and commitment of our jazz artists, and the vibrancy and originality of a scene constantly finding new ways and means of expression. It is a music of now and by tomorrow it will have shifted." Jonathan Zwartz.
Joe Camilleri and The Pulse producers, Jonathan Zwartz and Chris Hilton, worked long hours to compile the double CD for The Pulse. Carefully structured to both encompass the range of incredible music and assembled to ensure an excellent listening experience.
The Pulse is out now on Jazzhead
Track Listing Show
Thirty Three


The Barney McAll Unit

Falling Around The Sun


Paul & McNamara

Nealtime


Tim Neal's Big Organ Band

On The Loop


Alister Spence Trio

Under The Evergreen


Cathy Harley Trio

Stinkler


F.A.T.S.

Half A Chance


James Sherlock Trio

Love Me Or Leave Me


Michelle Nicolle Quartet

Open The Window


Mike Nock's Big Small Band

Lost On Jade Parade


Theak-Tet

No Kai Blues


Aron Ottington Quartet

Brownsville


Bernie McGann Trio

Between Kisses


Lily Dior Quartet

Ladies Man


Blowfish

Yesterday Street


Joe Chindamo Trio

Soak


Band Of Five Names

I Didn't Know About You


Nichaud Fitzgibbon Quartet

Ken


Elliott Dalgleish Quartet

Atom


Decoy
Buy Music
Cat# HEAD020
iTunes
Hi Res Download
1800 802 061 Phone Orders Australia
+61 3 9537 7155 Overseas Orders