Spiel (Paul Grabowksy and Niko Schäuble)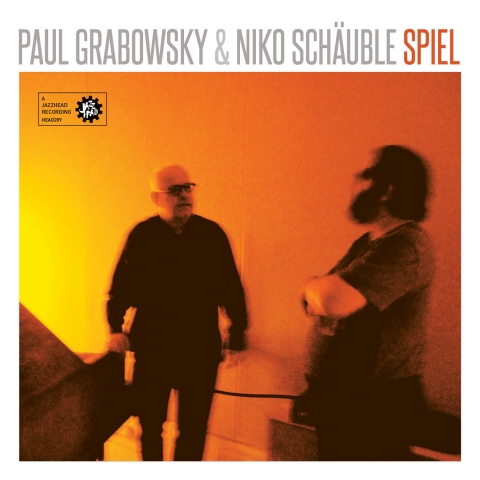 "Niko Schäuble and I have played in pretty much every musical context I've been involved with since I first met him in 1988. He was in my Tonight Show band, my sextet and trio and the Australian Art Orchestra, he's played on and helped orchestrate the odd film score and recorded my music in his Pughouse Studios. We've played everywhere from remote aboriginal communities to stages in Berlin, Bogota and Brooklyn. It's been a rich and rewarding relationship, and one which has matured into an almost telepathic understanding of each other's musical language. On this disk, you will here all of the music recorded during a couple of hours of playing at Pughouse, with me on his heirloom 1930's German grand. No discussions, just hit Record and go for it. The witnesses were Niko's son Tillman, and his dog, Shmit the aforementioned pug (or rather pugalier).
"I always have a good time playing with Niko; it was relaxed, and after a couple of hours we figured we'd had enough, and that was that. Then I listened to the music, and so did he. The weird thing was that so many synchronous things had happened during the course of the playing, that without really thinking about it, we had 'composed' all these little pieces. Magic happened: tiny things, sometimes, like sudden simultaneous tempo adjustments, or shared decisions about whether, or how, to fill a void; sometimes big things, like whole phrases played in unison, or sudden, inexplicable decisions to stop.
"We decided to include everything recorded that morning: the only editorial decisions concerned the track order and the titles.
"We played. It was a game scenario, hence the title: Spiel.
"On behalf of us both, thanks for listening."
Paul Grabowsy
All tracks composed by Paul Grabowsky (J Albert and Son) and Niko Schäuble.
"It's the endings that signal the singular rapport. Starting an improvisation is relatively straightforward: it merely requires an idea. But in the telepathic ability to end the pieces simultaneously (with no editing), you hear the long history of music-making shared by pianist Paul Grabowsky and drummer Niko Schauble. And they get plenty of practice, because this album consists of no less than 17 improvisations held to around five minutes or less. When one starts a piece the other latches on instantly, making concrete what was a flicker of the imagination. Those flickers range across a huge gamut of music, from hurtling shards of abstraction to slow-grind grooves. While many pieces teem with ideas and their consequent notes, one of the most striking is the deathly minimalist Zone of Avoidance, where the sounds suddenly loom out of a silence that seems wrapped in a fog. Elsewhere there is humour, drama, confrontation and fun - the usual gamut of a verbal chat, in fact, rendered in music by two friends on two instruments. Schauble also looked after the recording, achieving a floor-shaking bass drum sound."
John Shand, Sydney Morning Herald 25.03.16
Track Listing Show
Calling Jiu Jitsu


2:43 (Paul Grabowsky & Niko Schauble)

Chipper


2:54 (Paul Grabowsky & Niko Schauble)

Slog


4:02 (Paul Grabowsky & Niko Schauble)

Turnbuckle


3:50 (Paul Grabowsky & Niko Schauble)

Dead Man's Gulch


3:17 (Paul Grabowsky & Niko Schauble)

Zone of Avoidance


4:25 (Paul Grabowsky & Niko Schauble)

El Salon Pughouse


2:57 (Paul Grabowsky & Niko Schauble)

Attention Deficit


2:21 (Paul Grabowsky & Niko Schauble)

Cat Eyes


3:10 (Paul Grabowsky & Niko Schauble)

Limax


4:09 (Paul Grabowsky & Niko Schauble)

Beatnix


3:34 (Paul Grabowsky & Niko Schauble)

Parallax


5:02 (Paul Grabowsky & Niko Schauble)

Gigantor


5:29 (Paul Grabowsky & Niko Schauble)

Tandem


3:56 (Paul Grabowsky & Niko Schauble)

Twinkle


2:01 (Paul Grabowsky & Niko Schauble)

Cricktrack


5:12 (Paul Grabowsky & Niko Schauble)

The Hook


4:34 (Paul Grabowsky & Niko Schauble)
Buy Music
Cat# HEAD209
iTunes
Hi Res Download
1800 802 061 Phone Orders Australia
+61 3 9537 7155 Overseas Orders