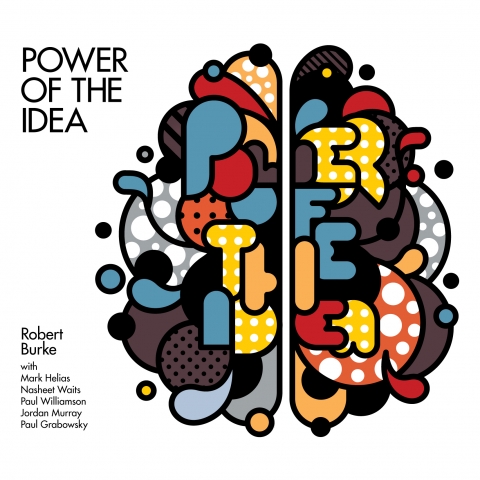 Jazzhead is very proud to continue its long association with Rob Burke with the release of his latest CD Power of the Idea.
The essence of this recording is based on free jazz with compositional context informing free improvisation; hence the title 'Power of the idea'. One musical idea supplies improvisation with a starting point and a foundation for exploration.

Recorded October 2014 at Acoustic Recording, Brooklyn, the directive to the band was to learn and perform the compositions but "...no instructions were given regarding artistic direction in the improvisations, they were inherently connected to the compositions or central ideas developed as a basis of the musical conversation" - Rob Burke.

What can be noted is what is familiar; styles that have influenced both composition and improvisation, including: jazz, classical western music (tonal and atonal), african and pop/rock.

Robert Burke - an improvising musician form Australia, Rob has performed and composed on over 200 CDs and has toured extensively throughout Australia, Asia, Europe, and USA over the last 30 years. He has also released 9 CDs under his own name having recorded and performed with Kenny Werner, Dave Douglas, Paul Grabowsky, Hermeto Pascoal, Vince Jones, Kate Ceberano, Joe Camilleri, George Lewis.

Rob is the co-ordinator of Jazz studies at Monash University - Melbourne Australia and is a Jazzhead recording artist

New-York based Mark Helias is one of the most significant bass players on the jazz/improvisation scene. His vast knowledge of music, creativity and innovation makes him such an important figure in the advancement of improvised music. Mark's contribution on this recording is exceptional.

Nasheet Waits is one of the most in-demand and respected drummers in New York. Nasheet has played with the 'who's who' of current jazz legends including: Andrew Hill, Jason Moran, Fred Hersch, Jackie McLean, Stanley Cowell, David Murray, Eddie Gomez and so many more.
"Groundbreaking" John McBeath, The Weekend Australian
Appearing on Power of the Idea are:
Robert Burke
Mark Helias
Nasheet Waits
Paul Williamson
Jordan Murray
Paul Grabowsky
Track Listing Show
Mercurochrome


R Burke

Bela


R Burke

Abandon


P Grabowsky

At the Cole Face


R Burke

Freebopcorn


J Murray

Mood 2046


P Williamson

Tik Tok


R Burke

The Big Show


R Burke

Hell Awaits


J Murray
Buy Music
Cat# HEAD207
iTunes
Hi Res Download
1800 802 061 Phone Orders Australia
+61 3 9537 7155 Overseas Orders