Monash Sessions: Tony Gould and Mike Nock
Monash Sir Zelman Cowen School of Music
THE MONASH SESSIONS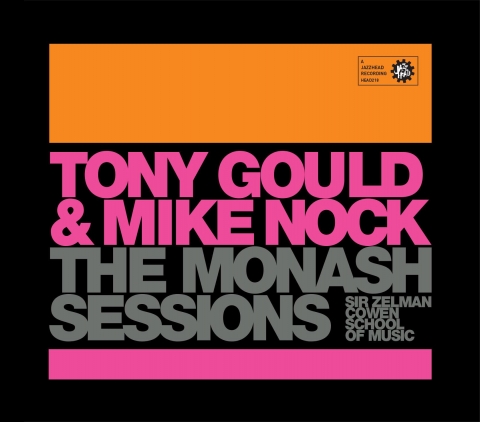 Two of Australia's most applauded jazz and improvising pianists joined with the cream of Melbourne's young jazz talent to release the newest offering from the acclaimed Monash Sessions.
Both multi award-winning international artists in their own right, Mike Nock and Tony Gould have joined their incredible forces with the power of a full ensemble of wonderful young musicians from the Sir Zelman Cowen School of Music.
Mike Nock's career has spanned a broad range of contemporary musical styles and he is widely recognised as one of the most important voices in Australian modern music. Based in Sydney since 1986, he previously spent 25 years in the USA, working with many of the world's top jazz artists. His compositions include orchestral music, woodwind / percussion ensembles, electronic / choral works etc., and have been recorded and performed by a range of jazz and non-jazz performers. Attracting many awards and honours over his lengthy career in 2014 he was awarded the Don Banks Music Award, the most valuable individual music award in Australia. In 2009 he was inducted into the Bell Awards Australian Jazz Hall of Fame and in 2003 presented with the New Zealand Order of Merit (ONZM).
Passing through several periods of music in the last 50 years, Tony Gould has developed his own distinctive style which insists on the primacy of melodic material, the complex and glorious world of harmony and of playing things differently each and every time. He is an influential teacher, though not always in the most traditional sense, preferring to lead by example rather than to stand and lecture and as such has inspired many students who have then gone on to their own influential paths. He is himself influenced by many musicians past and present and other creative beings such as Rosalie Gascoigne, Stravinsky, Robert Hughes and Jackson Pollock.
These 2 giants of Australian Jazz are joined by renowned musicians and staff of the School of Music: Rob Burke (Sax); Jordan Murray (Trombone) and Paul Williamson (trumpet) along with jazz students from the school.

Tony Gould and Mike Nock - The Monash Session CD Launch
Presented by Sir Zelman Cowen School of Music

"it would be hard not to be impressed by or enjoy the music here."
John Clare - Loud Mouth (The Music Trust Ezine)
Track Listing Show
Indifference


M Nock

Somewhere Called Home


P Smythe & F Landesman

Transitions


M Nock

Reflections


T Gould

Natal Lagal


M Nock

Lamp Is Low


P De Rose & B Shefter

Embracing You


M Nock

Palhaco


E Gismonti

Duality


T Gould & M Nock
Buy Music
Cat# HEAD218
iTunes
Hi Res Download
1800 802 061 Phone Orders Australia
+61 3 9537 7155 Overseas Orders