Live at Uptown (Paul Williamson Quartet)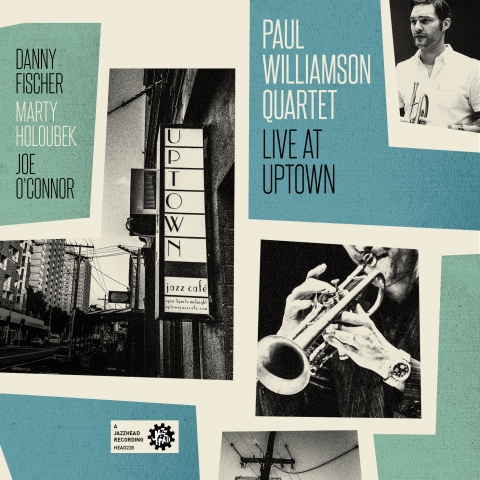 Australian jazz trumpeter Paul Williamson has built his reputation in the jazz scene by producing distinctive recordings of outstanding ensemble performances. A flawless example of this is Live at Uptown (Jazzhead), Williamson's 10th release as a leader.
The album, recorded live at Uptown Jazz Café, features the dynamic talents of Joe O'Connor (piano), Danny Fischer (drums) and Marty Holoubek (double bass).
Featuring music by iconic jazz composers Thelonious Monk, Charlie Parker and Gus Kahn, it combines spirited and swinging playing, adventurous improvisations and fresh arrangements with unexpected twists.
A regular in the Australia jazz community, Williamson has also performed with international jazz artists at festivals and venues in the United States, Europe and Asia. He was active in the European jazz scene whilst based in Dublin in the late 2000's, before being invited by Dave Douglas in 2014 to perform at the Festival for New Trumpet Music (FONT) in New York City where he premiered a program of new compositions.
As well as having a successful recording and performance career, Williamson is a faculty member and the Jazz and Honours coordinator at the Sir Zelman Cowen School of Music at Monash University, Melbourne.
"As you are aware, I am not listening to this in a jazz club in Melbourne, Sydney or New York, but in my flat on a rainy night, staring out across the wet park at the viaduct. It has been raining since last night without stopping. The music is well under my skin. Williamson sends a needle of bright sound in the extreme register across the textural and dynamic interactions below. It feels as if all my friends, some in reality gone, are here listening with me."
John Clare - Loud Mouth (The Music Trust Ezine)
Track Listing Show
I Mean You


T Monk

If I Should Lose You


R Rainger / L Robin

You Stepped Out of a Dream


NH Brown / G Kahn

Iris


W Shorter

Little Melonae


J McLean

Ask Me Now


T Monk

Confirmation


C Parker
Buy Music
Cat# HEAD228
iTunes
Hi Res Download
1800 802 061 Phone Orders Australia
+61 3 9537 7155 Overseas Orders