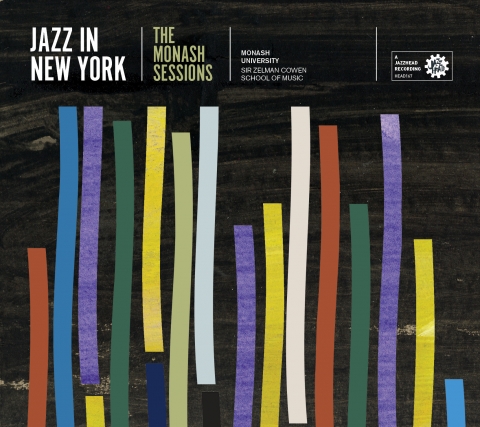 Monash Sessions: Jazz in New York
Jazz In New York marks the 2012 international collaboration between Monash University's Sir Zelman Cowen School of Music Jazz and Popular Studies program, and NYU (New York University) which is located in the heart of Greenwich Village.
The recording features two New York jazz scene stars: Trumpeter Alex Sipiagin and saxophonist Alex Foster.
Three weeks at the NYU Summer Jazz Improv Workshop is where Melbourne's leading jazz students were treated to cutting-edge jazz education. Involving mentoring, master classes, workshops, and numerous performances with some of the finest jazz musicians in New York City. This CD features small group ensembles in the newly built and state of the art NYU James L. Dolan Music Recording Studio.
This CD presents sterling contrasts, familiar historic sounds with high quality performances from students performing with jazz elite -recorded in the jazz capital - New York.
Jazz In New York. Out now on Jazzhead.
You are listening to East Of The Sun.
East Of The Sun (Jazz In New York: The Monash Sessions) by Jazzhead Records
Track 1: Andy Gravish Ensemble
Trumpet - Andy Gravish/ Tenor Sax - Nolan Young/ Guitar - Grant Higgins/ Piano - Andrew Koehler/ Alto Sax - Michael Tinta / Bass - Claire Cross/ Drums - Daniel Berry
Track 2: Michael Wolff Ensemble
Trumpet - Alex Sipiagin/ Alto sax - Gareth Voigt/ Guitar - Sam McAuliffe/ Piano - Michael Wolff/ Bass - Liam Dogger/ Drums - Jack Schunk/ Voice - Lorraine Maneja
Track 3: Michael Wolff Ensemble
Trumpet - Alex Sipiagin/ Alto sax - Gareth Voigt/ Guitar - Sam McAuliffe/ Piano - Michael Wolff/ Bass - Liam Dogger/ Drums - Jack Schunk/ Voice - Lorraine Maneja
Track 4: Sy Johnson Ensemble
Trumpet - Alex Sipiagin/ Alto sax - Josh Davey/ Guitar - Sam Cox/ Piano - Sam Izzo/ Bass - Scott Mealy/ Drums - Jordan Holiman
Track 5: Sy Johnson Ensemble
Trumpet - Alex Sipiagin/ Alto sax - Josh Davey/ Guitar - Sam Cox/ Piano - Sam Izzo/ Bass - Scott Mealy/ Drums - Jordan Holiman
Track 6: Andy Gravish Ensemble
Trumpet - Andy Gravish/ Trombone - James Macaulay/ Guitar - Harry Coulson/ Piano - Ross Hoyt/ Bass - Liam Dogger/ Drums - Samuel Pankhurst
Track 7: Jean-Michel Pilc Ensemble
Trumpet - Alex Sipiagin/ Trombone - James Macaulay / Guitar - Tom Biffin/ Drums - Chloe Dempsey/ Bass - Harrison Wardley/ Piano - Ross Hoyt/ Vibraphone - Zach Daniels
Track 8: Dave Pietro Ensemble
Alto Sax - Alex Foster/ Voice - Olivia Chindamo/ Piano - Tully Ingamells
Bass - Harrison Wardley/ Drums - Joseph Batrouney
Track 9: Dave Pietro Ensemble
Voice - Olivia Chindamo/ Soprano Sax - Sven Svalbe/ Guitar - Harry Coulson/ Piano - Tully Ingamells/ Bass - Harrison Wardley/ Drums - Joseph Batrouney
Track 10: Ben Allison Ensemble
Voice - Olivia Chindamo/ Tenor Sax - Nolan Young/ Guitar - Sam McAuliffe/ Piano - Tully Ingamells/ Bass - Harrison Wardley/ Drums - Jack Schunk
Track 11: Dave Pietro Ensemble
Flute - Dave Pietro/ Voice - Lorraine Maneja / Alto Sax - Liam Werrett
Vibes - Zach Daniels/ Guitar - Thomas Biffin/ Piano - Kevin Lavitt/ Bass - Matthew Hayes/ Drums - Chloe Dempsey
Track Listing Show
Swingin at the Haven


Andy Gravish Ensemble (Composer Ellis Marsalis)

Portraiture


Michael Wolff Ensemble (Michael Wolff)

Hummin


Michael Wolff Ensemble (Nat Adderley)

Goodbye Porkpie Hat


Sy Johnson Ensemble (Charles Mingus)

Blues Suite #4


Sy Johnson Ensemble (Sy Johnson)

Night Dreamer


Andy Gravish Ensemble (Wayne Shorter)

Dirge


Jean-Michel Pilc Ensemble (James Macaulay)

Darn That Dream


Dave Pietro Ensemble (Jimmy Van Huesen)

Sweet Time Suite


Dave Pietro Ensemble (Kenny Wheeler)

East of the Sun


Ben Allison Ensemble (Brooks Bowman)

Adams Apple


Dave Pietro Ensemble (Wayne Shorter)
Buy Music
Cat# HEAD167
iTunes
Hi Res Download
1800 802 061 Phone Orders Australia
+61 3 9537 7155 Overseas Orders