Frame of Reference (Sean Foran)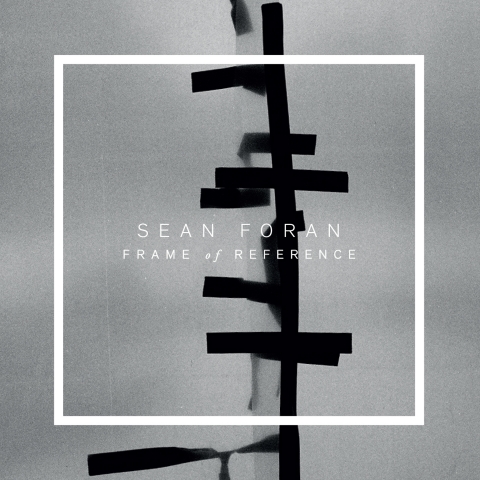 UK TOUR: 3rd - 11th Oct 2016
AUSTRALIAN TOUR: 16th Oct to 28th Oct 2016
Better known as one third of the highly-lauded progressive piano trio Trichotomy, pianist and composer Sean Foran steps away from the group whose cohesion and empathy saw them do now wrong over their 17 year history.. Bringing together a brand new ensemble of cutting edge British players, Foran releases his debut as a leader; 'Frame of Reference', a collection of original works for the inventive line up of piano/Rhodes, guitar, saxophone, cello and drums.
Frame of Reference moves away from the jagged, pulse-racing intensity of Trichotomy, but is no less fluent, tight or dramatic. Foran's desire to work with new musicians was, in part, a response to reaching for a more chamber jazz sound. Throughout the eight tracks, tempos shift with pieces building and swooping with Foran's playing both bright and dreamy. Together, the ensemble provides sharp interplay. Whilst their repeating melodies and the cello accompaniment at times provide an anthemic, cinematic touch - rhythmic and hypnotic - they maintain a clear melodic focus. Indeed, Foran's love of minimalist composers including Steve Reich, Phillip Glass and modern jazz masters such as Pat Metheny are evident in his compositions.
Foran's time in the UK, as a Masters student at the Leeds College of Music and later through numerous tours with Trichotomy, saw him to interact with a variety of the UK scene's vibrant players. So for this recording he was able to gather "players" he says "I really admire''- Julian Arguelles (sax), Stuart McCallum (guitar), Ben Davis (cello) and Joost Hendrickx (drums). Foran wrote each of the album's eight tracks specifically for the band, thinking about what each member offers both as a player and as a person. An immediate chemistry is evident in the ensemble who were assembled for the first time at the recording session.
"This project was something that I'd thought about for a while, and I wanted to write and record some music that featured a different lineup to the trio that I usually work with. It's more chamber based that my trio material, and also more textural. The saxophone, guitar and cello complement each other in a really interesting way and open the music up to so many possibilities for melodic and harmonic interactions. Most of all, there's space for everyone to improvise... it feels very open and melodic...I think there's a sense of optimism in the music, a sense of calm".
In touring the project within Australia Sean has assembled an equally stunning group of musicians, with a varied lineup for each show featuring John Parker (Drums), Sam Vincent (bass), Stephen Magnusson (guitar), Toby Wren (guitar), Ben Hauptmann (guitar), Jeremy Rose (saxophones) and Rafael Karlen (saxophones). The sensitivity of these players will create performances not to be missed.
Reviews
"…this album with its richly nuanced, multi faceted writing and highly skilled playing. There are some brilliant individual moments from all of the musicians involved but it's the overall balance and coherence of the ensemble in conjunction with Foran's intelligent and colourful writing that impresses most. "Frame of Reference" is one of the most consistently beautiful albums that I've heard all year, but there's genuine rigour and intelligence alongside the prettiness. Highly recommended."
4 1/2 Stars - Jazz Mann (see full review here)
FRAME OF REFERENCE Album Release Tour Dates
UNITED KINGDOM
Mon 3rd Oct
Pizza Express Soho - LONDON
pizzaexpresslive.com | +44 845 6027 017
Tue 4th Oct
Watermill Jazz - DORKING
watermilljazz.co.uk | +44 7415 815784
Wed 5th Oct
Lakeside - NOTTINGHAM
lakesidearts.org.uk | +44 115 846 7777
Thu 6th Oct
Future Inns - BRISTOL
jazzatfutureinn.co.uk | +44 845 0945588
Fri 7th Oct
Turner Sims - SOUTHAMPTON
turnersims.co.uk | +44 23 8059 5151
Sun 9th Oct
Newcastle Jazz North East presents "Splinter" (Foran/McCallum duo only) -NEWCASTLE
jazznortheast.com
Tue 11th Oct
Capstone Theatre - LIVERPOOL
thecapstonetheatre.com | +44 844 8000 410
AUSTRALIA
Sun 16th Oct
Uptown Jazz  - MELBOURNE
presented by Melbourne Jazz Co-op | www.mjc.org.au
Wed 19thOct
SIMA presents @ the Soundlounge - SYDNEY
www.sima.org.au
Fri 28th Oct
JMI LIVE - BRISBANE
www.jazz.qld.edu.au
Track Listing Show
Room with a View


Composed by Sean Foran

Une Fille


Composed by Sean Foran

Frame of Reference


Composed by Sean Foran

Dare to Dream


Composed by Sean Foran

A Fine Balance


Composed by Sean Foran

Quiet Times


Composed by Sean Foran

Mish Mash


Composed by Sean Foran

The Sum Of


Composed by Sean Foran
Buy Music
Cat# HEAD222
iTunes
Hi Res Download
1800 802 061 Phone Orders Australia
+61 3 9537 7155 Overseas Orders