Everybody Loves Somebody (Monique diMattina)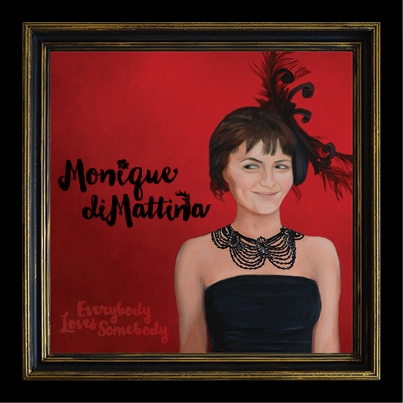 Off the back of her sellout show 'An Affair to Dismember' Monique diMattina releases her fifth album in seven years 'Everybody Loves Somebody' - songs on fast lust, platonic pacts, french fantasy, star-crossed train wrecks, parasitic attachments and more.
Ironically the album opens with the Dylan song diMattina walked down the aisle to at the age of twenty one... re-harmonized in surprising ways, rather like the life journey of the songstress herself. Originally studying law, diMattina decamped for a career in music which has seen her live in four continents, play for heads of state, work with the likes of Lou Reed and Bjork, become a Fulbright Scholar and Honorary Fellow of Melbourne University, run a marathon incognito, and develop a larrikin wit for storytelling in song.
diMattina has penned six of the eleven songs on Everybody Loves Somebody, her signature versatility seeing her glide from piano fantasias to vocals, rhodes/organ/melodion and ukelele, dancing in the cracks between jazz/blues/roots, country and pop. Producer/engineer Marty Brown (Clare Bowditch, Art of Fighting) sculpts an intimate soundscape, from diMattina's home piano to his Coburg studio, with the cream of Melbourne's jazz/roots scene, including James Sherlock (guitar), Howard Cairns (bass), Eamon McNelis (trumpet) and tenor sax giant Paul Williamson.
The result is a stunning musical exposition that raises more questions than it answers. diMattina says "We are poking a stick at various notions of 'love' and devotion.. 'Baby Won't You Cook For Me' is all sweaty salty sweet salaciousness. 'Change It Up' 's jungle drums are a war cry for personal and social transformation, and 'Ahee' is a sea-faring ode to the hermetic journey. For me, La Vie En Rose is that romantic haze of endless giving and expansion... but then 'Love is Lonely' is a cry from the chasm - when you've given your heart, and it disappears down a black hole.. We had to end with The Acorn Song because that's the future hope.."
With her oeuvre ever growing, there's plenty of future hope for fans of this gem of the Australian jazz/roots scene.
Monique diMattina is a mother of two. She teaches piano and song-writing at the VCA, and plays with the Melbourne Tango Quintet and Clare Bowditch. Everybody Loves Somebody is out on Head/MGM.
"Monique DiMattina lights up my piano with her life, and my life with her piano. A worthy genius, she is. Buy this CD" Clare Bowditch
"Dynamic and utterly divine" Sydney LiveWire
"Anything but obvious" - Andrew Ford ABC
"A Dylanesque swagger with the Aussie vernacular" Jazz&Beyond
"Somewhere between Billie Holiday and Ricke Lee Jones" - ABC Music Show
" A new approach to the genre..appeals to both the heart and the head" AltMedia
"Jazz smarts sculpt elegant pop" - ABC Limelight
Musicians:
Monique diMattina: vocals, piano, melodion, pump organ, rhodes, ukulele
Eamon McNelis: trumpet
Paul Williamson: tenor sax, clarinet
Andrew Hammon: trombone
James Sherlock: Amelio Bourget acoustic guitar
Howard Cairns: acoustic bass
Andrew Swann: drums (4, 8 and 11)
Marty Brown: drums/percussion (1, 2 and 9)
All tracks recorded at home and at Standalone Studios, Coburg, by Marty Brown. www.facebook.com/standalonestudios
Except track 5 recorded and mixed by Craig Pilkington at Audrey Studios. Mixed by Marty Brown.
Mastered by Dave Glasser at Airshow Mastering, Colorado.
Produced by Marty Brown and Monique diMattina.
Cover portrait by Elizabeth Bossong: www.elizabethbossong.com.au
Design by Samantha McFadden at greybelle.
Photography by Karen Ridge: www.flickr.com/photos/supacrush
Track Listing Show
All I Really Want to Do


Bob Dylan

Baby Won't You Cook for Me


Monique diMattina

La Vie en Rose


Edith Piaf

Change It Up
If I Knew Then


Monique diMattina

Love is Lonely


Monique diMattina

Everybody Loves Somebody


S Coslow, I Taylor and K Lane

One Way or Another


Deborah Harry

Ahee


Monique diMattina

I'm Through with Love


F Livington, M Malnek and G Kahn

The Acorn Song


Monique diMattina
Buy Music
Cat# HEAD214
iTunes
Hi Res Download
1800 802 061 Phone Orders Australia
+61 3 9537 7155 Overseas Orders