Trichotomy (formerly Misinterprotato)
Celebrated Brisbane jazz trio MISINTERPROTATO are taking a bold step in the music world... they are changing their name. The decade old contemporary jazz group are renaming themselves TRICHOTOMY to signify a new era in the group's career.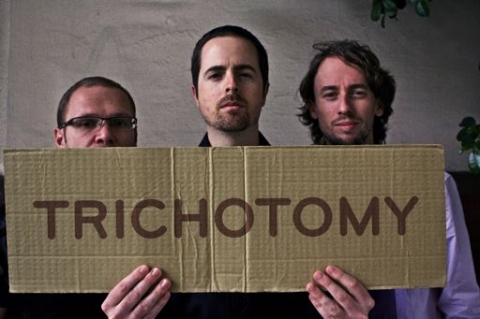 "It was a huge decision but we feel like the group has a new sound since its inception over 10 years ago. We're known as Trichotomy in the UK and Europe and we feel that this name represents the future of the band," says pianist Sean Foran.
Formed in 1999 as Misinterprotato while studying at the Queensland Conservatorium, the trio has released five highly acclaimed albums with the most recent release "The Gentle War" being nominated for a BellAward (Contemporary Jazz album of the Year). Their last two albums, "Variations" and "The Gentle War, have also been released internationally by the British label NAIM, under the name Trichotomy. "We've had a very positive response to the name overseas. At first it was tough as it's such a strange thing. One band, two names. So after a while we decided that the double life, our secret affair, had to end!" says Foran.

The worldwide change to Trichotomy comes at an opportune time for the trio with a range of collaborative performances scheduled for 2012 and a new album recording in July. "It's a busy year for us - we have a series of performances planned that feature string quartets and guest artists like DVA and Andrew Gibbs and we're launching a new website" Foran says.
"Then we're into the studio for the new album that will feature some surprise guests and will be the first recording to be released worldwide as Trichotomy. It's time for us to finally bring all our fans from UK/Europe and Australia together and the new album is the start.
it's a celebration of the end of the Misinterprotato life and a welcome to the new one".
The trio launch the new name with a show at the Judith Wright Centre's Shopfront space on April 28.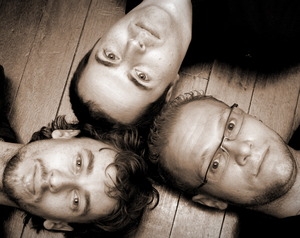 Misinterprotato are one of Australia's most inventive contemporary music ensembles. So much more than a traditional jazz trio, this group expands the capacities of the classic piano/bass/drums combination with elements of the avant-garde and a fresh attitude they bring to their music. Truly captivating for a variety of audiences, Misinterprotato skillfully blend dense, exciting improvisations and delicate atmospherics, conjuring up sounds of modern jazz, ambient music, avant-garde rock, free improvisation and contemporary classical music.

Formed in 1999 while studying at the Queensland Conservatorium, the group's sound is driven by award winning pianist Sean Foran, teamed with John Parker's expansive dynamic and timbral range on percussion and Patrick Marchisella's visceral touch on the double bass. Their debut album "now for the free" released in 2003 gathered them critical acclaim and the second release "In is In" released on the boutique label Jazzhead was an even stronger development for the group. The Australian called it "intelligent and moodily reflective….4 stars", while "Rhythms" said, "Filled with emotion and space and rich in texture and interaction, 'In is In' marks and impressive growth in their maturity and assurance."

"Variations" the third album features a variety of melodic and rhythmic landscapes, with the relaxed structures of Foran and Parker's intimate songwriting decorated by the group's spontaneous musicality. " A fine example of contemporary music in various tempos, incorporating a range of moods and drawing extensively on diverse classical references fused with 21st century jazz ideas." - The Australian

Inspired by a diverse range of influences from Aphex Twin to Vijay Iyer, and Tortoise to The Bad Plus, Misinterprotato's music combines a dense rhythmic focus with the melodic clarity of a Pat Metheny, Brad Mehldau or Stravinsky and like fellow Australians The Necks, whom they cite as an early influence, there is a remarkable attention to detail and a desire to allow ideas to develop naturally within their music. A key focus is the balance between piano/bass/drums, with the trio maintaining a free flowing three way conversation with no one dominating and all contributing integral parts.


Misinterprotato have performed around Australia at the Wangaratta Jazz festival, Woodford Folk Festival and Melbourne International jazz Festival, Brisbane Festival, Valley Jazz Festival, and the Apollo Bay Festival, among others. Internationally the trio have also appeared at the Calgary International Jazz Festival Canada, the Kutchan Jazz Festival Japan, World Expo Japan, and toured Japan several times. In 2009 they were invited to showcase at the prestigious MIDEM music conference in Cannes, France and in January 2010 toured the UK to wide critical acclaim supporting the release of the "Variations" album.
Recent Releases
Also appears on...