Mark Fitzgibbon
Mark Fitzgibbon was born into a strong entertainment tradition. He is the son of well known Australian entertainer, jazzman and restaurateur Graham "Smacka" Fitzgibbon , nephew to actress singer Maggie Fitzgibbon and grandson to pianist vaudevillian Min Fitzgibbon, his sister Nichaud is a famed jazz vocalist and brother Andrew a notable drummer.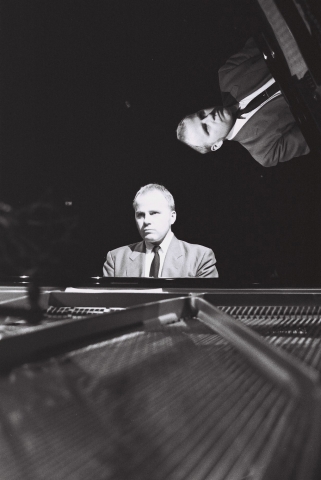 A piano student from an early age, he studied music under Fred Thomas, Graham Rule, Marie Driscoll and Trevor Barnard but mostly learnt from going on the road like everyone. Mark started with many leading Melbourne bands including Vince Jones and Wilbur Wildes "Blowout". In the eighties move to London and performed throughout Europe for the next seven years. In London worked as a freelance pianist regularly performing at the 606 club, Pizza Express and Ronnie Scotts jazz clubs.
Notable UK bands included Tommy Chase qt, Alan Barne's Pizza Express Modern Jazz Sextet, Clarke Tracey's groups, Gerard Presencer qt, Jean Toussaint, Anthony Kerr qt, Louis Stewart, Peter King, Charles Mcpherson, Don Weller, Dave O'Higgins, Ronnie Scott, Moontwist, The Moodists, Bryan Spring trio, Don Weller, Art Themen , Henry Lowther qt , George Coleman jr qt, Tina May and Claire Martin.
Mark returned to Australia in the 90's and won the Wangarratta jazz festival prize. Has worked and recorded with with many of Australias finest jazz performers including Dale Barlow, Bernie Mcgann, Christine Mcnulty, Fiona Burnett, Andrew Speight, Jamie Oehlers, Scott Tinkler, Ian Chaplin, Wilbur Wilde, Sabrina Montgomery, Cam Mcallister, David Rex, Willow Neilsen, Nichaud Fitzgibbon and his own trios and quartets.
A highly regarded pianist Mark has continued to be in demand within Australia as a solo artist, accompanist, composer and recording artist on stage, tv and radio. Mark has accompanied many international jazz stars such as Scott Hamilton, Lee Konitz, John Stubblefield, Curtis Lundy, Claire Martin, Mark Murphy and George Coleman jr on their tours in Oz. Mark is currently working in Melbourne with his jazz piano trio and quintet, Dale Barlow and George Coleman jr qt, Ruth Rogers Wrights Nina Simone show, Dave Graney's Lurid yellow mist, jazzreggae group Skankin', a tv jazzshow for Ch31 and a duo with the dynamic violinist Susannah Ng and some other weird and wonderful situations.
"Mark Fitzgibbon is one of the most under rated talents in the country. Always musically tasteful , a consistently sympathetic accompanist , a repository of a vast repertoire and an impeccable touch, he can produce blistering solos and lift the music to another level" -Adrian Jackson the AGE
Recent Releases
Also appears on...