Joe Chindamo
In 2009, Joe Chindamo won the APRA Music Award for Jazz Composition of the year with Something Will Come To Light from Duende - The Romantic Project which was also a Final Five nominee at the 2008 ARIA Awards.
In 2005 pianist/composer Joe Chindamo had appearances at Umbria Jazz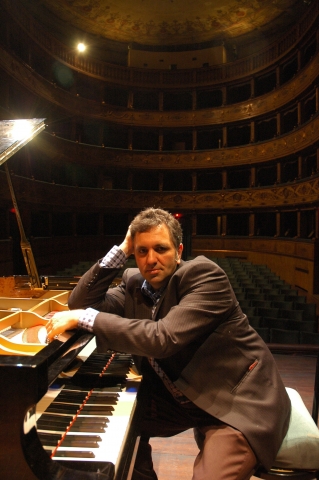 Winter in Orvieto, Italy in January, India in April and Umbria Jazz in Perugia in July, where he joined a distinguished lineup of jazz greats, including Oscar Peterson and Tony Bennett. (Joe recorded his first solo CD, Joe Chindamo, Solo- Live At Umbria Jazz 05 at this festival). In August he performed in Taiwan (with James Morrison and Idea of North) and in November was invited by the Australian/Israeli Cultural Exchange to play in Israel, where he gave a concert in Tel Aviv and a nationally televised solo recital at the Jerusalem Museum. In December, he performed at Norfolk Island, with Don Burrows and James Morrison.
In May, Joe was featured prominently at the Melbourne Jazz Festival (a.k.a. Umbria Jazz in Melbourne), with his quartet, with guest, Australian saxophone legend, Graeme Lyall and in duet with the amazing James Morrison. James and Joe hit it off so well that the two musicians decided to team up and record. Their first collaborative CD, James Morrison and Joe Chindamo 2X2, was recorded in September 2005 and will be released in early 2006.
Continuing his mutual love affair with Japanese audiences, Chindamo's CD, America – Joe Chindamo Trio plays the Paul Simon Song Book, was released in Japan in March 2005 and reached number 2 on that country's HMV Modern Jazz Charts. This is Chindamo's third release in Japan, all three CDs becoming best sellers. (The other two being Joy of Standards, which reached Number 1 on the above charts and Joy of Standards Vol.2, climbing to number 2).
This year, Joe also completed a two year Australia Council Fellowship (awarded in 2003) which enabled him to turn his hand to classical composition. Paying homage to his childhood instrument, he composed a modern orchestral work, Concerto for Accordion and Orchestra. Under the auspices of the grant he has produced two CDs and 10 compositions and orchestrations for the Melbourne based Bennett's Lane Big Band.
Joe Chindamo won the 2002 MO award for Australian Jazz Instrumental Performer of the Year. He was nominated for the same award in 2003 and won it again in 2004.
Other career highlights include, recording The First Take (a.k.a. A Brief History of Standard Time) with the father of the modern jazz bass, Ray Brown (of Oscar Peterson Trio fame), recording and performing with Michael and Randy Brecker, Lee Konitz and drumming wonder Billy Cobham (with whom Joe made two CDs and toured the world 20 times throughout a ten year association)